Nothing is impossible---on making your dress!
A Versatile Tailored Suit
Have you ever thought about having a bespoke suit that you can wear for any occasion for ages?
Today we are delighted to share a story of one of our clients who was looking for a suit.
WHAT KIND OF SUIT WERE YOU LOOKING FOR?
I wanted a suit that would be versatile to wear to both work and to more casual settings; furthermore, because I live in Singapore where the weather is always warm, I wanted a suit of more breathable material but still well structured. 
WHAT KIND OF SUIT WERE YOU LOOKING FOR?
I came across AUSCHALINK via the website Alibaba, as I am hoping to make my wardrobe 100% sustainable in the next few years. I fell in love with AUSCHALINK work almost immediately, as they use sustainable and long lasting fabrics, and of course it's entirely customisable! In Singapore particularly, it is hard to find clothing for larger body types, which has always been frustrating for me. Instead of looking to spend a lot on clothes that do not suit my body (i.e. too baggy pants or cheap items), I decided to invest in making a suit of my own that would fit my body best. 
YOUR FAVORITE PART OF THE DESIGN PROCESS?
I think my favourite part of the process was sharing my ideas with Kanina on what kind of suit I'd like, and finally seeing the design options. They were really hard to choose from as I am a huge fan of suits in general, but I'm so happy with what I picked! 
WHAT ARE THE BENEFITS OF DESIGNING YOUR OWN SUIT?
As I have mentioned above, it's very freeing to be able to design and wear a suit that fits your body. Sometimes when buying a suit, the pants may be too large or the blazer too tight, so being able to wear my customised suit so comfortably is a very special feeling. I also love being able to choose my own fabric, as often structured suits are made of wool or other luxurious materials, which can end up costing a lot! I am also very particular about colour, so it was nice to be able to just be more involved in the process in general.
In her own words: "I was so lucky to be able to collaborate with AUSCHALINK on the production of a customised suit, something I have been wanting to do for ages! Because this was done remotely, I was a bit nervous as to how the product would turn out but I was absolutely blown away once I had received my suit. Not only was the material absolutely gorgeous, I was in awe of the tailoring and how well it complimented my body shape. It was really amazing to see 4-5 months of brainstorming come to life, and I am forever thankful to AUSCHALINK for being so lovely all throughout and for the stunning suit".
Tell us about your ceremony
We had a small ceremony and reception at one of our favorite gardens in New Orleans that grows food for local restaurants and works with awesome chefs.
What kind of dress were you looking for?
I wanted something simple but beautiful that would be comfortable to dance around in a garden.
Why did you choose AUSCHALINK?
I loved the sustainable ethos, design, and easy process of sending your measurements digitally!
Your favorite part of the design process and what are the benefits of designing your own dress?
How easy it was to make a few simple choices. You don't have to try on a bunch of dresses to get exactly what you want. It's simple to choose the top, bottom, train, etc. when making it custom.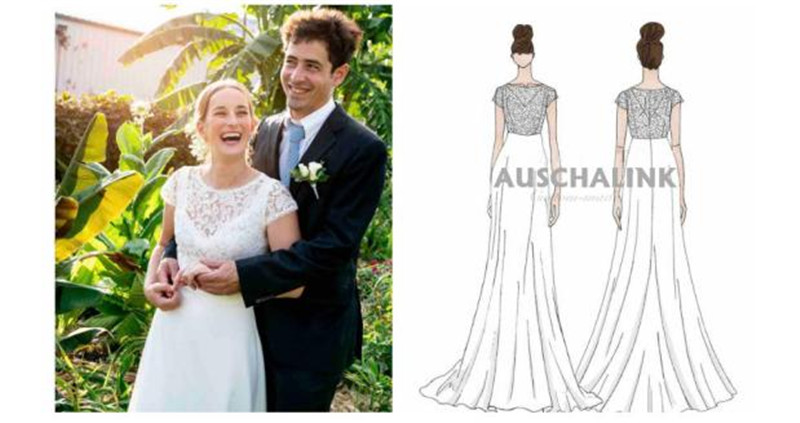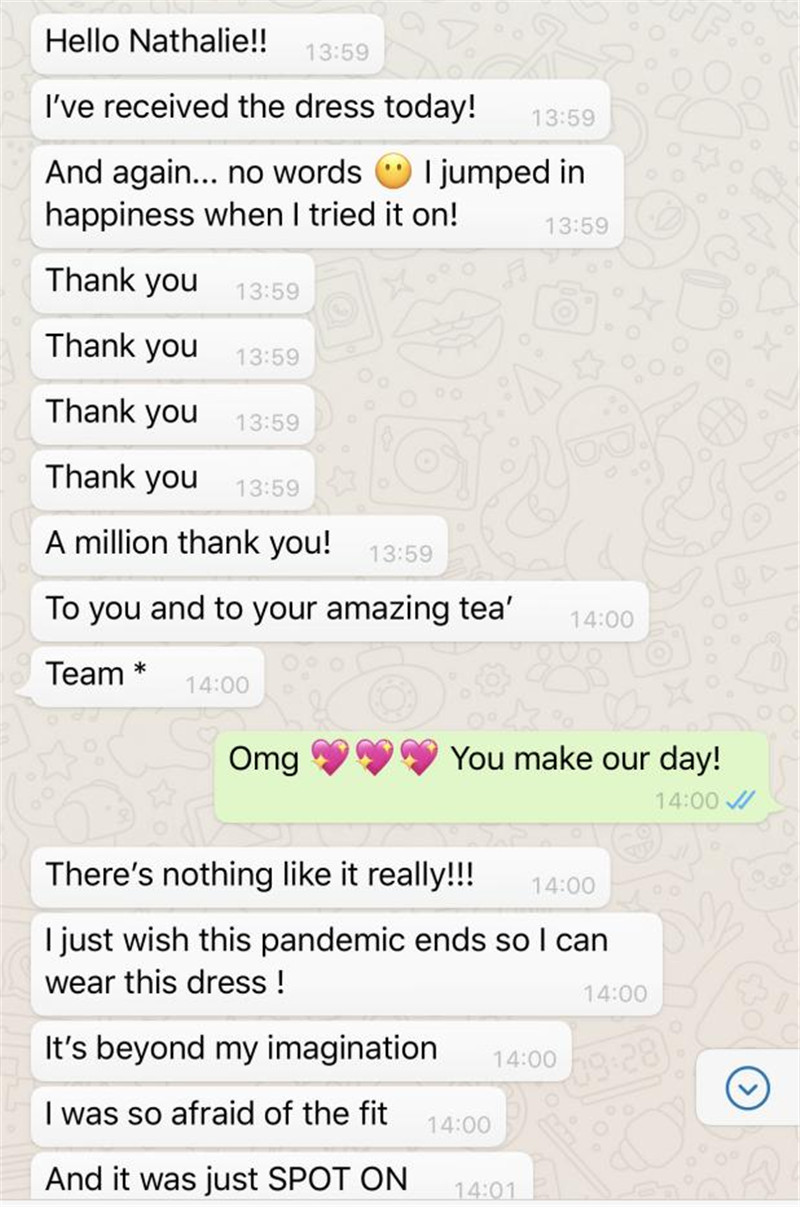 We have the materials you need ! and colors to choose!
Discover your Unique Personal Style
Build Your Wardrobe that is Authentic to You
Shop independently or design your custom clothes 
Innovative and Personalised Approach
Custom women's wear, we are professional
We have many years of experience in OEM processing, have seen many different styles, and often pay attention to the new products of major brands. Combining our advantages in production, we have developed many styles that are comparable to those of major brands. For these styles, you only need to change your trademark and add your label.
We study the newly clothing on the market every year. We use the same fabrics as the big brands to produce our clothing. Our patterns and fabrics can provide the best protection for your brand. The quality is the same as the big brands, and it is cheaper than the big brands.
We have our own production workshop and provide small batch production services. If you don't like our styles, then you only need to provide your design and size table, we can make samples for you and produce them in small batches.
We not only change labels and make tags for you, but we also provide packaging services for you. We customize exquisite packaging for each of your clothes. When you receive the goods, you will directly enter the warehouse without re-packing and shipping directly. That's it.